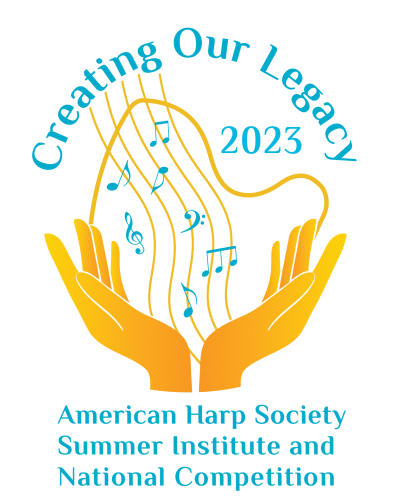 June 1-4, 2023
Colburn School, Los Angeles
Every summer the American Harp Society hosts national gatherings.
The Summer Institute, held in odd-numbered years, focuses on the student harpist with workshops, master classes, and concerts by the best performers and pedagogues in the world. The Summer Institute is held in conjunction with AHS National Competition, where dazzling young harpists compete for awards and scholarships. The 2023 Summer Institute "Creating Our Legacy" and National Competition will be held at the Colburn School, Los Angeles, June 1-4, 2023. The Institute schedule and presenter information are available in the menu to the right.
"Legacy" refers to what one leaves to those who follow; an inheritance for a family member or living an exemplary life, for example. "Legacy" is usually recognized as what has already been bequeathed, but we can live, teach, perform intentionally in hopes of shaping our legacy.
The American Harp Society has an evolving legacy of great teaching and performance. Using traditional methods and practice as a springboard to create new pathways in our profession, workshops will present innovative approaches to teaching, rehearsal techniques and conducting, composition and arranging, use of technology, and career possibilities for emerging artists. Outstanding performances will engage and inspire audiences.
Canadian harpist and composer, Caroline Lizotte, is the featured artist at the Summer Institute. She will present a new work during the opening recital, teach a masterclass on Sunday (apply to play here), and work with the students of the Young Composers Project throughout the week. Outgoing AHS Concert Artist, Elizabeth Yeoh-Wang, will give her final performance at the opening recital as well, before the next competition winner in the young professional division takes on the Concert Artist role for 2023-2025.
Les Marsden offers a keynote address at the AHS Annual meeting, sharing insights and inspiration from his career. Though thoroughly trained as a musician from age four, Les made his name as a professional actor, director and playwright. At age 21, he created his one-man show A Night at Harpo's, complete with harp solos and widow Susan Marx's blessings. His show was booked internationally; his harp was formerly Mildred Dilling's instrument, which she told Marsden was Harpo's favorite of her collection. Based in New York and London, his highly-varied 4,000-performance career highlight was a nomination for London's Laurence Olivier Award. At 42, he suffered a disabling onstage injury while starring in Washington, DC and retired, moving his family to the Yosemite region. In 2002 he created the Mariposa Yosemite Symphony Orchestra, serving as CEO, Music Director, Conductor and Composer/Arranger. Tiny Mariposa is considered America's smallest town with its own orchestra, which is also the only orchestra allowed to perform in Yosemite National Park in the park's 133-year history.
Registration
Registration, along with programming and presenters, lodging options, and other Institute information, is now open! The registration rates are:
| | |
| --- | --- |
| Through April 1st: | |
| Adult | $140 |
| Student | $ 90 |
| Non-harpist family member | $ 90 |
| One day ticket (all) | $75 |
| | |
| After April 1st: | |
| Adult | $175 |
| Student | $115 |
| Non-harpist family member | $115 |
| One day ticket (all) | $75 |
---
The National Conference, held in even-numbered years, features concerts by brilliant artists from around the world, workshops on wide-ranging topics, master classes with world-class teachers, and scholarly lectures to feed your intellectual soul, as well as an exhibit hall with a dizzying array of harps and related items. The 2024 National Conference will be in Orlando, FL.
Members are invited to take advantage of these incomparable educational and networking opportunities.