New! AHS Live! Interactive AHS Member Community

SummerFest is an entertaining collection of offerings online via AHS Live! for AHS national members starting on June 21st. Log in below TODAY to see what's coming . . .
June 21-23:
Young Composers Project

June 21 at 12 Noon EDT:
Harp Care Panel

June 25-28: Final Division Performances,
2021 National Competition

Streamed LIVE from the Colburn School in Los Angeles, California. Watch the competition divisions live on the AHS website!

Live Online Video Tour of the
International Harp Archives!

The AHS equivalent to a virtual museum tour! Live from the Harold B Lee Library at Brigham Young University in Provo, Utah!
---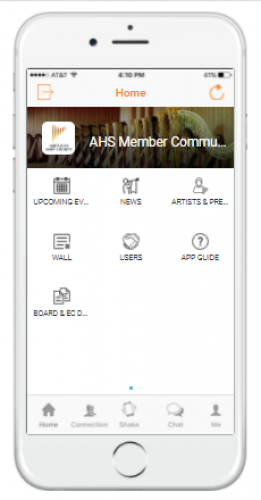 New for 2021, AHS has launched an online interactive community for the web and mobile devices! Here you will find direct links to livestreamed upcoming events such as the Annual Membership Meeting, SummerFest activities, regional events, the latest AHS news, social opportunities, and ways to connect with other members and special interest groups.
There are two ways to join in the fun. From your desktop, use the web page app:
.
Or if you're on the move, get the Socio mobile app for your phone or tablet:
Please note that you must register in the Socio app with the same email address you have on file with AHS. Then just search for "AHS" and you'll find the AHS Live! app. If you are a new member, it may take a few days for your permission settings to include the app. If your email is not recognized, you may always click the message offered to request access .
Socio should work well with Google Chrome, Mozilla Firefox, Safari, and Microsoft Edge browsers, but Chrome is recommended for the best experience. Be sure your Chrome is updated to the latest version for all features to work well.
FYI, the AHS "Reception Hall" in the app only works with the Socio Web App on a computer, not on mobile devices. Join us there to socialize!
Not a member yet? Join today to access AHS Live!