Purpose
To support emerging undergraduate harp performance majors in their pursuit of a music degree.
Award Criteria
This annual tuition scholarship award is open to upper division harp performance majors enrolled in an accredited conservatory or school of music in the United States of America. Successful applicants will be required to:
Show proof of American citizenship
Be in good academic standing at the time of application and maintain good academic standing throughout the term of the award
Share their accomplishments with the AHS membership through a presentation or performance at an AHS national event
Application and Selection Process
Applicants will be asked to upload proof of citizenship; an unofficial transcript of their first sixty (60) credits from their current institution; either a written or video essay on how they see themselves using the harp in their future careers; a current resume, and a 10' performance sample.
Applications will be reviewed by a committee of elected representatives of the AHS. Decisions of the committee are final. Award notification will be made directly to the student applicant, within fifteen (15) days following the final decisions of the committee. Funds will be disbursed from the American Harp Society, Inc., directly to the institution.
Questions may be directed to execdirector@harpsociety.org.
About Ruth Papalia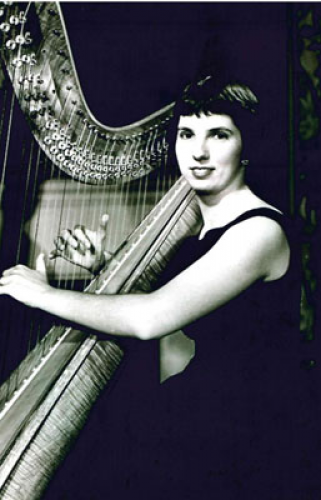 Ruth Wickersham Papalia (1935-2019) graduated from the Oberlin College Conservatory of Music with an undergraduate degree in harp performance. She was a member of Carlos Salzedo's professional harp quintet The Angelaires and for forty years performed with the College Community Orchestra at the State University of New York, Cortland NY. For the AHS Ruth was a co-founder of the Central New York chapter; a longtime member of the national Board of Directors serving in multiple roles as Chairman of the Board, Secretary, and Treasurer, and a founding member and first treasurer of the AHS Foundation. Ruth received the AHS Lifetime Achievement award for service to the AHS, in 2008. She was a lifelong champion of the harp and harpists, committed to continually exploring ways to make the harp relevant. She took great pleasure in the camaraderie of working with other harpists and was a friend and mentor to many.
The Ruth Wickersham Papalia Scholarship Award has been established in 2020 by Ruth's husband, Dr. Anthony S. Papalia, to honor Ruth's memory, her kind and gracious spirit, and her lifelong devotion to bringing people together through a shared love of music, and the harp.
Contributions to this Ruth Wickersham Papalia Scholarship Fund, managed and administered by AHS, may be made at any time in honor of Ruth.