The AHS, Inc. Salzedo Centennial Fund was established to underwrite AHS's 1985 celebration of the centennial of the birth of Carlos Salzedo (1885 - 1961). The centennial celebration, chaired by Sylvia Meyer, was the focus of the American Harp Society's 23rd National Conference held in Columbus, Ohio, in 1985.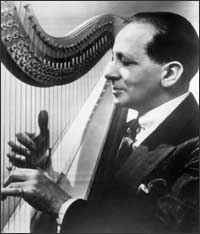 Of Basque descent, Carlos Salzedo was born and educated in France but emigrated to the United States as a young man. He became an internationally renowned performer, teacher, composer, arranger and innovator for the harp. Salzedo founded the harp department at the Curtis Institute of Music in Philadelphia and had a widespread impact on the development of harpists and harp music both in this country and throughout the world. His lifelong work on behalf of our instrument led to a significant increase in its perceived spectrum of capabilities and flexibility, and added greatly to the available repertoire for harp.
Because funds remained after the 1985 centennial celebration, AHS decided to use this resource to make more of Carlos Salzedo's works available to the public. To date, the AHS, Inc. Salzedo Centennial Fund has published four works arranged, transcribed, or composed by Salzedo which previously had not been published in complete form. These works are offered for sale either through the AHS, Inc. Salzedo Centennial Fund directly, or from music distributors Vanderbilt Music or Lyon & Healy West.
Pentacle
This account of Salzedo's life, written by his student and colleague Marietta Bitter, recounts his remarkable life story. She gives us the fascinating details of his professional and personal life, as well as the kind of intimate detail only possible from a close friend who was herself an eye witness to many of the events she describes. An indispensable book for those interested in the history of the harp, it will also fascinate readers looking to expand their understanding of the development of our American classical music scene.

Jules Bouy Tapestry
Limited Edition Poster
The famous Jules Bouy Tapestry from the Salzedo School in Camden, Maine. Available now for the first time in a limited edition poster.
Suitable for framing, it fits a standard 2'x 3' poster frame.
$25 USA/$35 Canada
Available for purchase in the AHS Online Store.
Sheet Music Currently Available:



Debussy

La Cathedrale Engloutie (7 harps)

$40 (2 scores, 7 harp parts)

Debussy

Children 's Corner Suite
(arr. for flute, cello and harp)

$35 (score, flute & cello parts)

De Falla

Seven Spanish Songs
(arr. for voice and two harps)

$20 (1 score)

Salzedo

Pentacle
(Suite for 2 harps)

$20 (1 score)
Available for purchase in the AHS Online Store.
Recordings Currently Available on CD:
Salzedo: On The Air!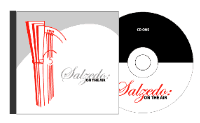 This unique two-CD set presents the renowned harpist and composer, Carlos Salzedo, as he sounded in a series of national radio broadcasts originating from New York City as early as 1934. The listener hears the master perform and speak. Also included are interview excerpts from a tribute to Salzedo shortly after his death in 1961, including Leopold Stokowski, Arnold Michaelis, Edgard Varèse, Martha Graham, and Lucile Lawrence. This CD set is the first of several recordings planned for release during the next few years by the Salzedo Centennial Fund of the American Harp Society. Proceeds of the sale of this CD set will be used to defray the costs of this first release and of future releases, which will include additional live radio transcriptions as well as re-releases of some of Salzedo's studio recordings.
This two-CD set costs $25 and is offered for sale in the AHS Online Store.
Future Projects
Publications
The AHS, Inc. Salzedo Centenial Fund has prepared a list of additional compositions, transcriptions or arrangements by Carlos Salzedo which are otherwise unavailable to the public. We will publish these when funding permits, copyright clearance is verified, and they are copied and made 'camera ready'. Watch this space!
For information, contact:
Ellie Choate
PO Box 4761
Lakewood, CA 90711-4761
Grandjany Centennial Fund
The American Harp Society Marcel Grandjany Centennial Fund was established in 1991 to underwrite the centennial celebration of the birth of Marcel Grandjany. Contributions to this Fund have made possible the production of videotapes derived from home videos made in 1972 and an audio cassette first released in celebration of the Tenth Anniversary of the AHS. A compact disk has been remastered from the audio cassette released in 1972 which includes the program personally selected by Mr. Grandjany and additional works.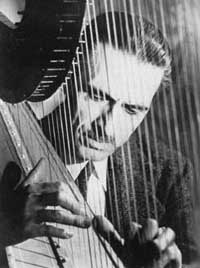 Marcel Grandjany (1891-1975) began the study of the harp at the age of eight with Henriette Renié. He was admitted to the Paris Conservatoire at age eleven where he also studied with Hasselmans, winning the coveted Premier Prix at age thirteen. At seventeen he made his debut with the Concerts Lamoreux Orchestra, and gave his first solo recital, winning immediate acclaim. He appeared with Maurice Ravel in Paris in 1913. His London debut was in 1922 and his New York debut in 1924. He appeared as soloist with major orchestras under the direction of Pierné, Cortot, Damrosch, Koussevitsky, Szell, Reiner and Golschmann among others.
From 1921 to 1926 Mr. Grandjany headed the harp department of the Fontainebleau Summer School. He moved to the United States in 1926 and was appointed head of the harp department at the Juilliard School of Music in 1938 where he taught until his death in 1975. He also taught at the Manhattan School of Music from 1956-1967.
At the First International Harp Contest in Israel in 1959, Pierre Jamet of France proposed the formation of an international association of harpists. Grandjany undertook to see what he could do in the U. S. and chaired a committee of leading harpists. The Founding Committee met for the first time on December 3, 1962 in Mr. Grandjany's apartment. Over the years, he was a member of the Board of Directors, Regional Director, Chapter Chairman and President of the New York Chapter. He generously performed at AHS conferences; in 1964 at the first conference and in 1967, a solo recital which was his last public performance.
He supported the educational goals of the Society vigorously. He delighted in the American Harp Society's growth and sense of community it gives to all harpists. Perhaps the American Harp Society will prove to be his most lasting memorial.
"Marcel Grandjany: The Teacher" DVD
"Music for the Harp" CD
Contributions to the Grandjany Centennial Fund have made possible the production of a DVD entitled "Marcel Grandjany: The Teacher". The hands of Marcel Grandjany are captured in this video. We see and hear the main aspects of his method through demonstration of his finger exercises and their application to the repertoire as he plays examples from eighteen excerpts and several improvisations.
The content of most of the Grandjany CD, "Music for the Harp", was personally selected by Grandjany in 1972 in celebration of the Tenth Anniversary of the American Harp Society. The CD includes Fantaisie on a Theme of Haydn (Grandjany), Sonata for Harp (Hindemith), Sonata in A Minor * (Soler), El Viejo Castillo moro* (Chavarri), Sacro-Monte* (Turina), Spanish Dance No. 1 from La Vida Breve* (Falla), Introduction and Allegro (Ravel), Danses: Sacrée et Profane (Debussy), The Children's Hour (Grandjany), Barcarolle (Roger-Ducasse), and Rhapsodie (Grandjany).
* Transcriptions by Grandjany
CD includes:
"Fantasie on a Theme of Haydn" by Grandjany,
"Sonata for Harp" by Hindemith,
"Danses sacrée et profane" by Debussy
and "Rhapsodie pour la Harpe" by Grandjany.
CD $18 DVD $25
For further information please contact:
Kathleen Bride
Grandjany Centennial Fund
15 Landsdowne Lane
Rochester, NY 14618‐3845
FAX 585‐387‐8941