The mission of the American Harp Society is to celebrate our legacy, inspire excellence, and empower the next generation of harpists. One of the most enduring and effective methods of accomplishing our mission is through our flagship publication, The American Harp Journal. The Journal serves as a vital source of information for the harp community, containing articles designed to advance the knowledge and skills of harpists and the harp community, and to leave an accurate record of the Society's activities. The Journal is a scholarly publication which embodies the AHS mission by including content of interest to multiple facets of our diverse community. AHS members, institutional subscribers, and paid advertisers receive the full color Journal twice yearly. The AHS is committed to maintaining a high quality print publication while simultaneously exploring options for alternative digital access.
Submissions to The American Harp Journal
The AHJ serves the membership of the American Harp Society by including articles and columns designed to inform members and leave an accurate record of the Society's activities, and address current issues in the harp world. Download and review the submission guidelines before proposing an article. We look forward to hearing from you!
---
Emily Laurance, Interim Editor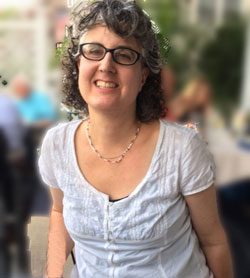 Interim Editor Emily Laurance serves as a content-area expert for The American Harp Journal. A professional harpist, musicologist, writer, and editor, Emily provides a perspective that balances the needs of the performing musician with the commitment and standards of specialized scholarship. Due to her own ongoing research and writing, Emily enjoys numerous connections with writers whose own interests intersect with the mission and purpose of the AHS.
In addition to being a recent member of The American Harp Journal editorial board, Emily serves as Contributing Commentary Editor for the A-R Online Score Anthology. The Anthology is a fully web-based score anthology, designed for use in collegiate music education, and published by one of the premiere academic music publishing houses in the country. Emily has served as a reader for Camac Publications and Indiana University Press, and was Scholar-in-Residence for The John W. Kluge Center at the Library of Congress, conducting independent research for a book manuscript on the early pedal harp. Emily holds the Bachelor of Music degree in Harp Performance and the Bachelor of Arts degree in English from Oberlin College, the Master of Music degree in Harp Performance from the New England Conservatory of Music, and the Master of Arts and Doctor of Philosophy degrees in Musicology from the University of North Carolina, Chapel Hill.
Emily is committed to retaining "harp-related scholarship as the keystone" of The American Harp Journal. She plans to solicit submissions from a larger percentage of our membership and "actively look for potential contributors whose interests extend beyond our assumed boundaries."
---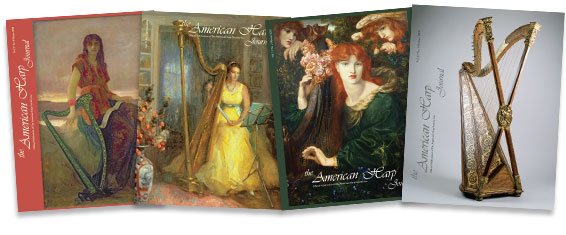 Extras
Summer 2019
Performance Practice of Three Tchaikovsky Ballet Cadenzas: A Discussion of the Current Editing Practice of the Waltz of the Flowers, White Swan, and Rose Adagio Harp Cadenzas, by Sara Cutler (Download PDF)
Summer 2018
Ann Hobson Pilot: An Appreciation

The Therapeutic Use of Harp: Modalities, Program and Training

AHS 43rd National Conference: Back to Our Future, Redlands, California: Additional Photos from Receptions and Performances
View Articles
Winter 2018
View the Table of Contents to access YouTube videos and photos from these articles:
David Watkins: An Intimate Portrait by John Browne

The Invention of the 18th Century: the Harpe Organisée and Pedals by Maria Christina Cleary

Alice Coltrane: The Swamini and the Harp by Ashley Kahn

Alice Coltrane: The Harpist and Her Legacy by Brandee Younger

Cadenza Corner: Donizetti's "Lucia di Lammermoor" with Emmanuel Ceysson (Metropolitan Opera, New York City) and Luisa Prandina (La Scala, Milan)

The AHS Grants Program: Studying the Italian Baroque Triple Harp with Mara Galassi by Laura Sherman
And additional videos about:
Summer 2017
Additions to:
Ballet and the Harp

The Lyra Society/Untangling the Wires: Exploring Harp Writing for the Costello Competition

AHS 12th Summer Institute, 22nd National Competition & Concert Artist

AHS Young Composers
View Articles