The winner of the Young Professional division of the National Competition serves as the AHS Concert Artist.
The Concert Artist program provides resources to assist chapters in sponsoring the Concert Artist in performances, classes and/or workshops that benefit local harp communities. Contact the Concert Artist program Director Karen Lindquist for further information, or to schedule 2023-2025 Concert Artist Kaitlin Miller.
2023- 2025 Concert Artist Kaitlin Miller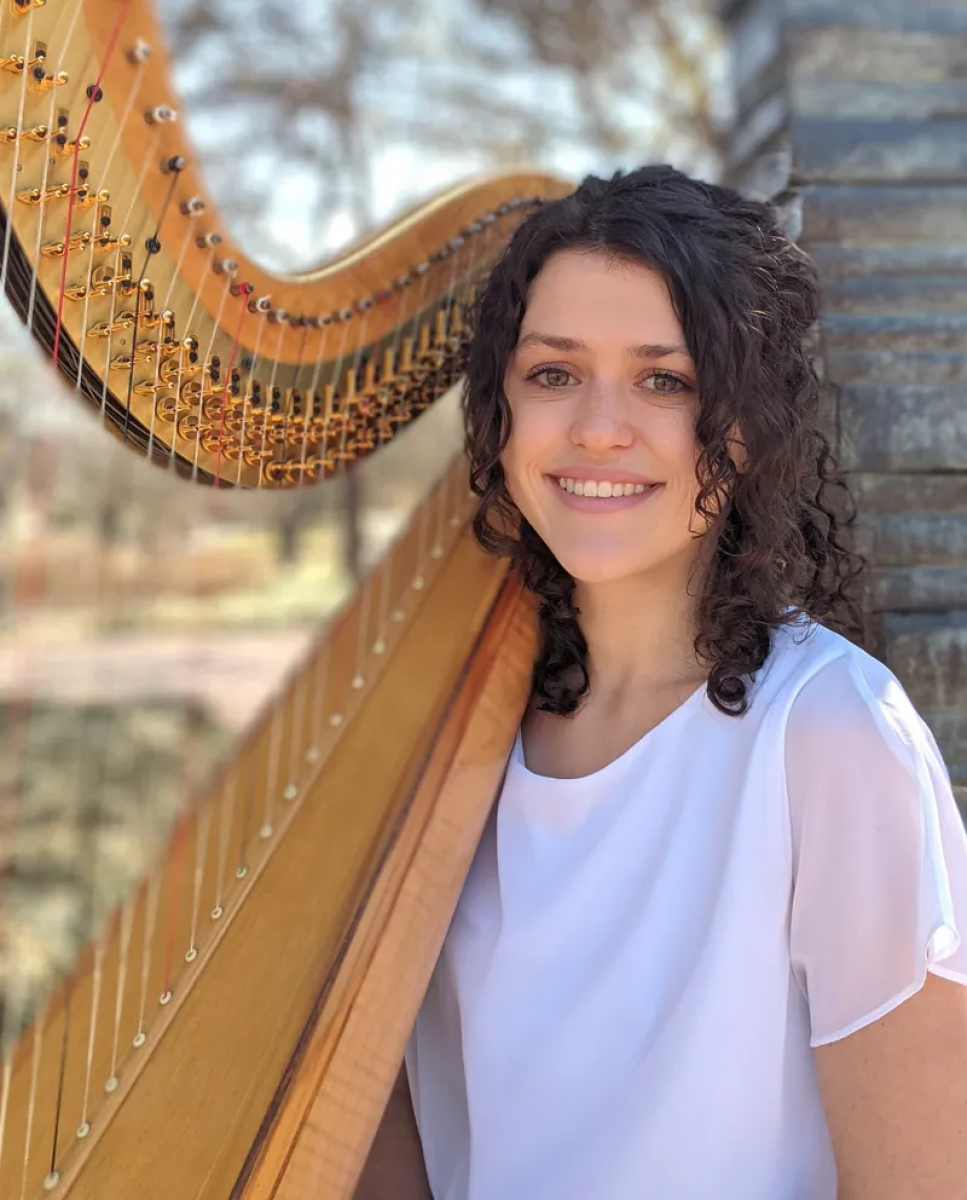 A Colorado native, Kaitlin finds few things more enjoyable than playing the harp and exploring the musical capabilities of the instrument. She is an active performer in ensemble, chamber, and solo settings and particularly enjoys performing French music and new works by living composers. Kaitlin has performed throughout the Midwest of the United States in cities such as Chicago, Denver, Dallas and more. She is a recent graduate from the University of North Texas, earning a Bachelor of Music degree with a double major in music theory and harp performance under the instruction of Dr. Jaymee Haefner. She is currently pursuing a Master of Music degree at the University of Southern California as a student of Joann Turovsky.
At the University of North Texas, Kaitlin performed with multiple ensembles and collaborated often with her peers. She was avidly involved in the composition department at the University of North Texas and has premiered various harp solos, duets, and chamber pieces written by young composers. She was fortunate to have the opportunity to work with British composer, Paul Patterson, when she performed his harp duet Scorpions under his instruction in 2019. She was a member of the UNT HarpBeats and has played in masterclasses for respected harpists such as Isabelle Perrin, Sasha Boldachev, Emily Levin, and Kathy Kienzle. In 2018, she was honored as "Outstanding Undergraduate Student in Wind Studies" as a player with the UNT Wind Symphony and also performed with the Lone Star Wind Orchestra under the baton of Eugene Corporon. In 2019, Kaitlin won the American Harp Society in Dallas Scholarship Competition and was selected as one of the winners for the 2020 Anne Adams Awards Competition. She was also a finalist at the 2021 American Harp Society National Competition, Young Artist's Harp Seminar (YAHS), and UNT Concerto Competition. When not playing music, you will find Kaitlin outside enjoying nature or in a local coffee shop with friends.
Past Winners*
| | |
| --- | --- |
| Elizabeth Yeoh-Wang | 2021-2023 |
| Caroline Wilkins | 2019-2021 |
| Abigail Kent | 2017-2019 |
| Katherine Siochi | 2015-2017 |
| Alexandra Katelyn Mullins | 2013-2015 |
| Elizabeth White Clark | 2011-2013 |
| Heidi Van Hoesen Gorton | 2009-2011 |
| Sadie Turner | 2007-2009 |
| Adrianna Horne | 2005-2007 |
| Kristie Withers | 2003-2005 |
| Annabelle Taubl | 2001-2003 |
| Joanna Jordan | 1998-2000 |
| | |
*Partial Listing