May 25, 1931 – June 22, 2022
By Patricia Wong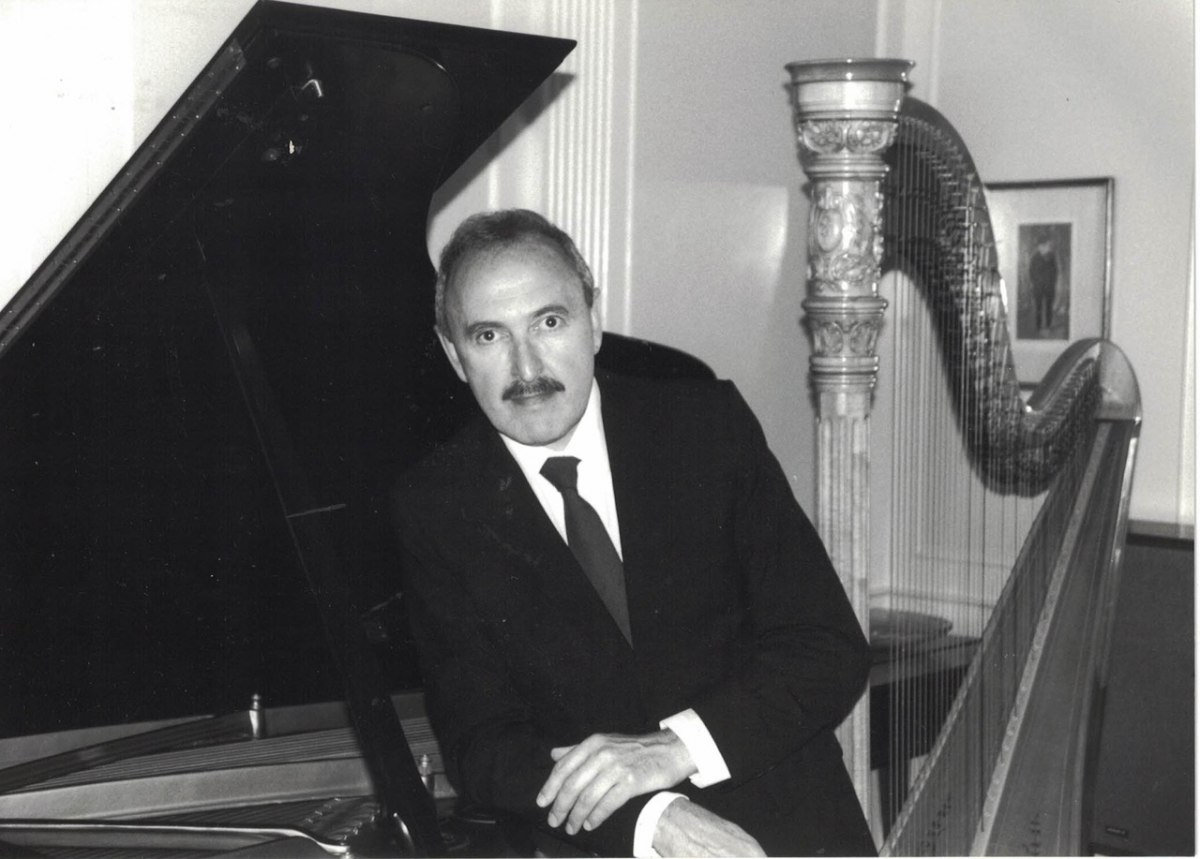 Ellis Schuman, composer, pianist, harpist, and teacher, received his early education in Chicago and continued his studies, earning degrees in music from Roosevelt University and Ohio University. After serving in the army in Korea, he began teaching music in Chicago schools, distinguishing himself in all aspects of music education including performance and curriculum development. He received the Kate Maremont Foundation Dedicated Teacher Award in 1978 for his innovative accomplishments. After retiring, he was appointed lecturer in harp at the Chicago Musical College of Roosevelt University where he initiated a program of harp study. The many performances of his works during his lifetime brought him great recognition as a composer. His music was presented by the International Society of Contemporary Music, at the Tanglewood Music Center, and broadcast on WNYC.
In 1984 he moved to San Francisco and became associated with the Music Center of San Francisco where he had a private studio and a large following of adult piano and harp students. He continued to enjoy recognition as a serious composer and performer. Specialized music research afforded him opportunities for travel here and abroad. His compositions and scholarly arrangements for the harp have been published and are widely performed. In 2001 his In Memoriam for strings, dedicated to the memory of the victims of the Holocaust, was performed throughout the Bay Area by the New Century Chamber Orchestra with great success. The original score and recording of this work was subsequently presented as a gift to the United States Holocaust Memorial Museum in Washington, D.C. Schuman's Mouvement Classique for harp was performed at the 37th National Conference of the American Harp Society in San Francisco in 2006. In 2012 his setting of Psalm 121 for mixed chorus and harp was performed by St. Mary's Cathedral Choir of San Francisco and the San Francisco Conservatory of Music Chamber Choir.
Ellis Schuman's life and work was the subject of an interview in the Summer 2005 issue of the American Harp Journal. He was a recipient of the 2008 Harold Washington Professional Achievement Alumni Award presented by Roosevelt University. Ellis Schuman savored the finer aspects of life and art. His uncompromising quest for quality, combined with his musicianship and enthusiasm, inspired students, friends, and colleagues alike. He is survived by those who hold dear the memory of this dedicated musician, teacher, and friend.