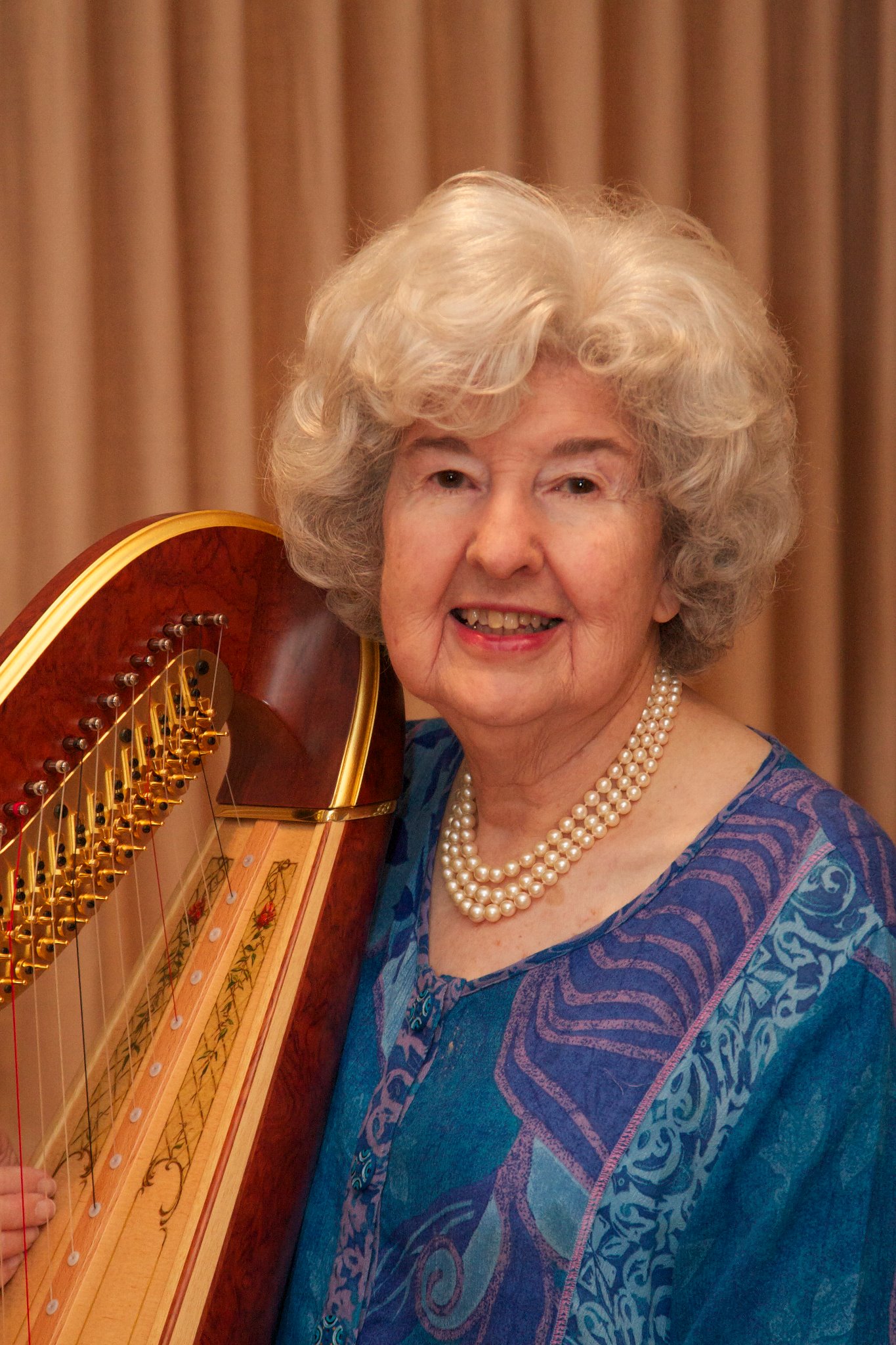 Harpist, author, and historian Roslyn Rensch Erbes Noah died Nov. 6, 2021, in Manhattan, New York. "Roslyn was my dear friend and mentor, and I had the great honor of caring for her for the last ten years of her life," harpist Meko (aka Mike Walls) says. "She was a cultured, intelligent, accomplished, elegant, interesting, generous, witty, educated, and fun lady with a passion for the arts and especially her beloved harp."
Rensch was born in 1923 in Detroit, Michigan. "She was the second daughter of Carl and Maria Rensch, who had intended this time around to have a son named Roderick," Meko recalls. "Roslyn told me her parents were greatly surprised that this great big 10½-pound baby turned out instead to be a girl, whom they promptly named Roslyn, which was also the name of a street they had seen and liked in Detroit."
After moving to Evanston, Illinois, in 1929, her family attended a recital by Alberto Salvi. With the encouragement of her musically talented mother, Rensch began harp studies with Salvi and his half-sister Aida shortly afterwards. "Roslyn received her very first harp lesson at the tender age of 11 on her mother's beautiful Wurlitzer Gothic harp, a harp which she kept all her life," Meko says.
Rensch continued her studies with Alberto Salvi during her bachelor's and master's degrees at Northwestern University. She also studied intensively for one summer with Marcel Grandjany. In 1946, she became the principal harpist for the Chicago Civic Orchestra for the next six years.
Rensch published her first book, The Harp: from Tara's Halls to the American Schools, in 1950. Her interest in a more comprehensive account of the harp's history led her to study musicology, first at Northwestern University in 1953, then at the University of Illinois in 1954 after joining the harp faculty there. As an extension of her research on visual representations of the harp, she obtained a master's degree in art history from the University of Illinois, followed by a PhD in art history at the University of Wisconsin-Madison, where her dissertation explored the history of the harp's iconography and organology. "Roslyn's great passion was art," Meko explains. "She told me many times that she had always wanted to be an artist and enjoyed the medium of watercolors mostly because she didn't have the patience to wait for oils to dry."
She continued to research and publish books throughout her career, including The Harp: Its History, Technique and Repertoire (1969) and Harps and Harpists (1989, revised 2007). In addition to her books and numerous articles, she left lasting contributions to harp research by donating about 90 percent of her private collection of music, papers, and recordings to the University of Illinois in 1989. She also gave materials to the International Harp Archives at Brigham Young University. Meko notes, "She became an officer and benefactor of the International Harp Museum," which he founded in Orlando, Florida.
In 1965, Rensch joined the faculty at Indiana University in Terre Haute, where she served as professor of harp and art history until her retirement in 1988. She served as vice president of the American Harp Society from 1977–1980, then helped to establish the World Harp Congress in the early 1980s. She went on to serve on the Board of Directors of both organizations.
"Roslyn's contribution to the harp world was invaluable as a performer, teacher, and most importantly as an author of four reference books on the history of the harp," Meko says. "She told me she wrote the first one because she could find nothing available on the history of the harp, so she decided she would do one herself." Meko observes that she was "always anxious to be involved with projects which would further the harp."
Reposted courtesy of HarpColumn.com