Enjoy this interview with Ms. Hairston and Ms. Steiner.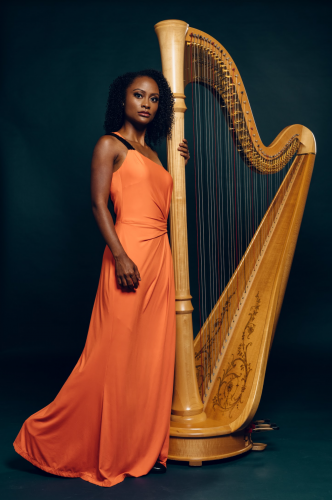 Harpist Angelica Hairston
How did you hear about the Sphinx Award?
We both heard about the work of the Sphinx Organization as young harpists and always dreamt of what it would mean to be a part of the Sphinx family. After being accepted into the inaugural cohort of the SphinxLEAD program, a 2-year professional development program for arts leaders of color, we were eligible to apply for the SphinxMPower Grant. We look forward to taking our learning to the next level as a result of this award.
Please tell us a bit about the project that received the SphinxMPower Grant.
Through this transformational award, we will record two new solo works for harp by Black composers and produce a companion educational video series highlighting the stories of Black harpists and composers, and how the harp developed throughout the African diaspora to its increasingly visible role in music today.
How do you see the award impacting the outcome of the project?
We see the award elevating the reach of our project because the Sphinx Organization is such a powerful voice for diversity, equity, and inclusion in the classical music field. We aim to create representation in the musical community by highlighting the artistry of harpists and composers whose stories need to be told.
What are you most excited about with this process?
Lizzie: I am so excited to work closely with composers to create exciting new solo repertoire for the harp that can be programmed in a variety of settings. I am so passionate about expanding the repertoire and ensuring harpists have a more diverse and equitable selection of solo music to perform.
Angelica: We've been incredibly inspired by harp documentaries such as Ann Hobson Pilot's PBS Documentary "A Musical Journey" and Catrin Finch 's BBC Documentary "The Harp". I'm most excited to dive deep into the video series which will uncover the rich African history of our instrument and celebrate living composers of the African diaspora who are carrying the legacy forward.
How has the support of the organization shifted the way you think about your work?
Lizzie: The support of Sphinx has been incredibly inspiring and uplifting. I am so grateful to have gotten to know Angelica further through my time at Sphinx since it is such a joy to work closely with a friend and fellow harpist who shares a similar vision and desire to make an impact.
Angelica: In the midst of the racial reckoning of the past year, I realized how critical it is for individuals and organizations to support musicians of color not only in words, but in tangible actions. For me, this award from the Sphinx Organization is a clear example of how to honor, celebrate, and amplify the leadership of Black women. It feels like a confirmation of the decision we've made to use our careers as catalysts for equity in the arts.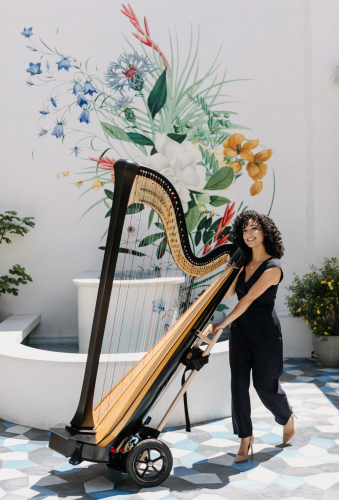 Harpist Elizabeth (Lizzie) Steiner
What's next for you?
Lizzie: I am looking forward to playing William Grant Still's Ennanga next season with Orchestra 2001 and premiering a new work for solo harp by Ugandan composer Justinian Tamasuza. I am also excited to be partnering with Ars Nova Workshop and Spirits Up to bring meditative performances centered around Black wellness and liberation throughout the summer in Philadelphia.
Angelica: I'm excited to premiere a host of new works for harp, including pieces by Navajo composer Connor Chee and Black composer Brandee Younger in a Challenge the Stats presented recital on July 28th alongside cellist, Khari Joyner. The program, titled Sounds of the New Normal, explores how each of us can continue the conversation around racial equity as our nation begins to adjust to the coming "new normal".
Anything else you'd like to share?
Learn more about the Sphinx Organization, including the SphinxMPower Grant and the SphinxLEAD Program, on their website, www.SphinxMusic.org.