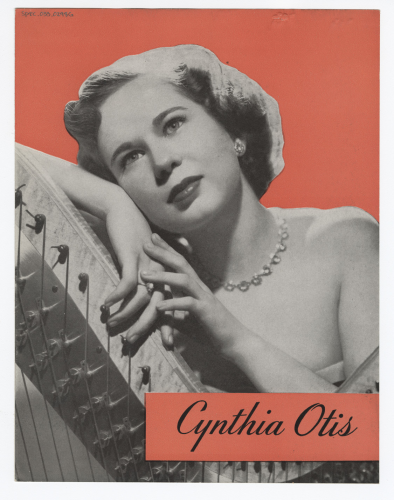 Cynthia Otis, a member of Local 802 for 73 years, passed away at the age of 91 on September 24 in New Haven, CT. She was a harpist with an extraordinary career that began at age 16 when she appeared as soloist on one of the New York Philharmonic's "Young People's Concerts." Born in Meriden, CT, she began studying piano at 4 and switched to harp at 8. She thrived on the harp and knew early on that she wanted to play professionally. After high school, she moved to New York and enrolled at the Mannes College of Music, where she continued her studies with the great 20th century teacher, Lucile Lawrence. After only a year there, she left to begin decades of touring the US and Canada with chamber ensembles for the National Music League and Columbia Artists Management. One of her favorite ensembles, the New York Concert Trio, with cellist Ardyth Alton and flutist Paul Boyer, covered all 48 contiguous states in their 8 years of touring.
Early in her career, she founded the harp department at the Hartt School of Music in Hartford, but soon found that her touring schedule made it impossible to do any regular teaching.
In NY, she was the original solo harpist for Thomas' Scherman's Little Orchestra Society, and harpist for the New York Pops (joining at the request of her old friend Skitch Henderson) and Musica Sacra. Her recording with Musica Sacra of the Brahms 4 Songs, Opus 17 for women's chorus, 2 horns and harp on the RCA label was, for harpists, the holy grail recording of that work.
In the dance world, she was the harpist for the Joffrey Ballet; the Martha Graham Company; Dance Theater of Harlem; and the New York City Ballet. She joined City Ballet as a rostered member in 1959 and performed with them for the next 42 years, retiring in 2001. She felt a deep connection to the NYC Ballet Orchestra and always used to say that her position there was the hardest, and most rewarding, harp job in the world. During her tenure at City Ballet, it was a true repertory company, doing 8 shows a week cycling through as many as 50 works in each 2-3 month season twice a year plus, of course, the Nutcracker season. In one typical week, she would play up to 15 different works by composers from Tchaikovsky to Stravinsky to Webern to Debussy. Besides playing beautifully night after night in the pit, she was quick to laugh and unfailingly kind and warm to her colleagues, all of whom considered her a great lady as well as a great harpist.
An old, now retired, City Ballet Nutcracker flute part had a handwritten note at the start of the Waltz of the Flowers (which begins with a harp cadenza) that reads: "O! 'tis Cynthia!" And for 42 years at City Ballet and almost 92 years on this earth, indeed it was. And we are all the richer for having had her with us.
---
Last Modified: Oct 12th, 2021