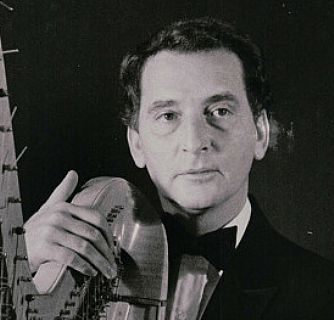 Wilber "Corkey" Christman, 80, died October 16, 2017, in Schenectady, NY. His wife Patricia died in 2014; surviving are daughter Laura Sodders, and sister Alice Gingery and her children and grandchildren.
Corkey took early harp lessons with Betty Fuller Meiners and Kathryn Allen Samuelson, majored in visual arts during early college years, and resumed harp study at Curtis Institute and Camden, Maine, under Carlos Salzedo. Following Salzedo's death, he finished his studies with Marilyn Costello and Alice Chalifoux.
After Curtis, Corkey began his varied performance career, developing programs blending music, poetry (sometimes his own), and dance. In the late 1960s he married pianist Patricia Stanley Harris; they performed together at New York's Town Hall and in countless venues across the Northeast. Corkey also played regularly with groups like Schenectady and Vermont Symphonies, and Williamstown Theatre Festival; he taught privately and at The Schenectady Conservatory of Music.
In the 1970s Corkey began study of ballet, which led to Nutcracker audiences seeing the unique double-casting of the Snow Prince later playing the Waltz of the Flowers cadenza.
Corkey then had long engagements in the Berkshires at The Red Lion Inn and Blantyre. His many innovative classical, folk, and pop arrangements made fans of Tanglewood regulars like Jessye Norman and Itzhak Perlman, the latter sometimes joining Corkey in Blantyre's dining room for kazoo and harp duets.
Throughout his career, Corkey was a strong proponent of Salzedo's technique, music, and approach to performance. After retiring from performance, Corkey had a burst of creative output in drawing and painting. In preparing a biography for an art show a few years ago, Corkey described his life perfectly: "I produce art because I have no other choice; I feel compelled to. If I stopped there would be a big hole, nothing."