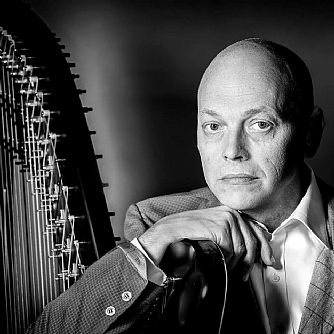 Paul David Wren passed away on June 7, 2017 at the age of 53 in Parker, Colorado. He will be missed by his partner of 13 years, Bill L. Lett; his siblings, Michael (Millie) Wren of Houma, LA; Susan (Wilburn) Walker of Pineville, LA; Becky (Brantley) Farque of Iowa, LA; 10 nieces and nephews, and 16 great nieces and nephews and all of his extended family and friends who had the pleasure of knowing him. He is preceded in death by his Mother, Clemmie Wren and Father, Rev. Emmit Wren.
He was a native of Louisiana, and attended Lake Charles High School in Lake Charles, Louisiana graduating in 1982. Paul's passion was music: he attended McNeese State University as a composition major. During this time he discovered the harp and fell in love with the instrument. Paul's further studies of the harp took him to LSU where he graduated.
His career with American Airlines took him to live in various cities, Fayetteville, AK; Dubuque, IA; and eventually to the Denver area. After 9-11 Paul left American Airlines and became a quality assurance specialist for the corporate travel industry. In Denver Paul continued to perform as a professional harpist. He served as principal harpist for the Aurora Symphony for 14 years, played for various local groups including the Colorado Wind Ensemble, and the Evergreen Symphony, to name a few. All thru his time as a harpist, he was a member of the American Harp Society serving on the board of the Mile Hi Chapter for many years and as President. Paul also enjoyed offering his services for weddings and various private events.
Paul's passions included music, family genealogy, cooking, photography, gardening and his beloved pets. On most days Paul could be found in the garden, tending plants, watching and photographing birds and his amazing flowers.
The family would like to extend their sincerest appreciation for the wonderful care Paul received in his final days at Parker Adventist Hospital. The family would also like to thank all of the special people who visited, supported, and prayed for his recovery during a very difficult time. You are loved.
Sunday, June 11th friends and family will gather at Olinger Crown Hill Mortuary & Cemetery for visitation from 4:00 p.m. to 6:30 p.m. His funeral service will be held Monday, June 12th at Olinger Crown Hill's Pavilion of Reflection at 6:00 p.m. A private interment will take place at Olinger Crown Hill Cemetery at a later date. Memorial donations may be made in Paul's memory to the Aurora Symphony Orchestra, a local non-profit, for whom Paul was a principal harpist.
Arrangements under the direction of Olinger Crown Hill Mortuary, Cemetery & Arboretum, Wheat Ridge, CO.