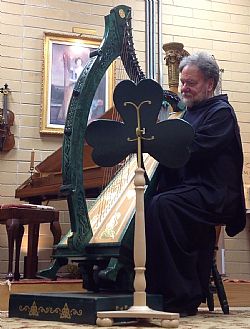 On Friday, August 21, 2015, Br. Michael O'Brien, OSB, monk of St. Benedict's Priory, Benet Lake, Wisconsin, passed away in his room. Br. Michael had suffered from diabetes for a number of years, and died of acute myocardial infarction. He was 62 years old, and a member of St. Benedict's Priory since 2000.

Br. Michael was born March 31, 1953, in Fond du Lac, Wisconsin, the son of the late William J. and Pauline O'Brien. After graduation from high school, he tried monastic life but departed to study music in New York and Great Britain. He received a degree in psychology from Marquette University. He returned to Benet Lake in 2000, and he entered the novitiate in 2001. Br. Michael made his monastic profession on October 1, 2002. A gifted musician, Br. Michael served his community faithfully as choirmaster, organist, liturgist and vocation director until his death.

In November 2014, the monks of St. Benedict's Abbey at Benet Lake voted to become dependent on Conception Abbey, the community's founding monastery. At that time, Br. Michael transferred his stability to Conception Abbey while continuing to live and work at Benet Lake.

A very talented harpist, Br. Michael was a life member of the American Harp Society. In addition to teaching harp students at a studio at Benet Lake, Br. Michael was also actively involved in a project to certify harpists for work in harp therapy in hospice settings. His harp ministry also allowed him to work with grief support groups in the local area. He served as a volunteer counselor in the Milwaukee area for a number of years.

Br. Michael is survived by his monastic confreres; by his sister and brother-in-law, Sharon and Stephen Jahn; nephews Patrick (Amy) Jahn and Paul (Cheri') Jahn; and grand-nieces Isabella and Karissa Jahn and great-nephew William Jahn.

Abbot Gregory Polan, OSB, of Conception Abbey presided at the Mass of Christian Burial at St. Benedict's Priory on Wednesday, August 26. He was joined by the monks of the Benet Lake community, other monks and priests from the area, his family, friends, musical colleagues and neighbors. Burial followed in the monastery cemetery.

We ask your prayers for Br. Michael according to the usual suffrages. May the God he so faithfully praised in song with the harp bring him to the eternal choir in the heavenly courts!

- Fr. Patrick and the monks of Benet Lake