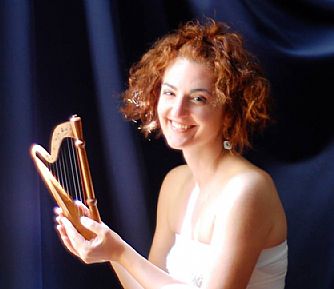 Lurana Lubello was born on the 20th February 1972 and died the 21st June 2015 in Milano (Italy), the city where she lived, studied and shared her passion and love for her family and friends.
Lurana studied at the Milan Conservatory of Music G. Verdi, where she excelled in everything she did. She graduated with honors in 1993 and then moved to Germany. In 1997 she was awarded a further academic degree from the Musikhochschule in Frankfurt, studying under Alice Giles.
In the same period Lurana attended master classes with Judith Lier, Susann Mc Donald, Edward Witsenburg and, at the prestigious "Salzedo School" in the United States, Alice Chalifoux.
After her studies Lurana served as principal harp in different orchestras, among them the Landes Jugend Orchestrer in Berlin, Frankfurter Sinfoniker and World Orchestra. She played with renowned conductors such as Antonio Pappano, Bobby Mc Ferrin and Yury Temirkanov.
In 1997 Lurana performed as a soloist in Mozart's Concerto K299 with the Rhien-Main Kammerphilharmonie in Frankfurt and won the audition for the Mahler Youth Orchestra, conducted by Claudio Abbado.
In 2005 Lurana started to perform with the Orchestra Nacional de Oporto.
Lurana won several national and international prizes both as a soloist and as a member of chamber music groups. Foremost among these was the Vienna Music International Competition in 1999.
Several Italian composers wrote for her because of her deep interest in modern and commercial music, combined with her special knowledge of the harp and sound effects.
Lurana demonstrated her love for family when she married Gianpiero Alboni in 2002 and together they created a new family, sharing their love with three beautiful children, Paolo, Olivia and Patrizio, now ages 12, 9 and 6. She loved to share with her family and friends unforgettable moments skiing and wandering in the mountain, which was one of her great passions. Her Catholic faith was a central pillar during her entire life and during the difficult time of her illness.
Lurana will be remembered for her wisdom, determination to pursue objectives and great love of family. She leaves behind her loving husband Gianpiero and their three children, her mother Annunziata, her father Francesco and her sister Daniela.