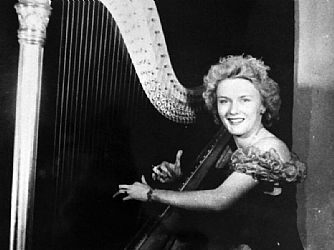 Jeanne Henderson (nee Bergeim), died from complications of Alzheimer's disease on February 12, 2017 at the age of 94. Jeanne was very active in the American Harp Society, Inc. and managed its Milwaukee chapter for many years. She attended the Juilliard School of Music, where she studied with renowned harpist and composer Marcel Grandjany.
Her performing career spanned some 70-plus years. Jeanne was first harp for the Milwaukee Ballet for more than a decade, first harp for the Waukesha Symphony, and first on the list for countless other roles, performing in small and large symphonies, troupes and venues. Early in her career she performed in nightclubs around New York City with the likes of Tito Puente and traveled throughout the Americas with a harp quartet complete with a dancer/contortionist.
Jeanne is also known for her teaching. In Milwaukee Public Schools, she created the largest public high school harp program in the country in its day. She also founded a harp program at University of Milwaukee's Peck School of the Arts.
To honor her teaching legacy, Jeanne's family is establishing the Jeanne Henderson Harp Scholarship at the UWM Foundation for the University of Wisconsin Peck School of the Arts. For more information on donating, please contact Jeanne's granddaughter Tracy Henderson at tracy@centerreachcommunication.com or Daniel Petry, Director of Development, Peck School of the Arts, at petryd@uwm.edu or 414-229-3902.
For more on Jeanne's colorful history read:
https://onmilwaukee.com/myOMC/authors/bobbytanzilo/harpist-jeanne-henderson-obituary.html