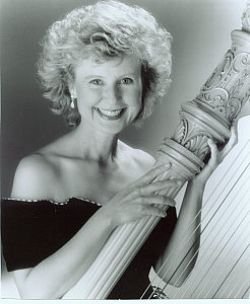 Dr. Carrol McLaughlin passed away from cancer on March 10, 2018 at her home in Tucson, Arizona at the age of 65.
Born in Grande Prairie, Alberta, Canada on March 29, 1952, Dr. McLaughlin began playing the harp at age six. By age 14, she was the principal harpist for the Calgary Symphony. She graduated with her Master of Music from The Julliard School and her Doctorate in Harp Performance from the University of Arizona under Susann McDonald. While in London, Dr. McLaughlin studied extensively with Russian harpist Maria Korchinska.
Dr. McLaughlin has performed in such renowned concert halls around the world as Carnegie Hall in New York and Wigmore Hall in London. Dr. McLaughlin toured the world extensively throughout her 51-year career. Professor of Harp at the University of Arizona for over 30 years, she established the world's largest touring harp ensemble, HarpFusion. She recorded numerous solo and collaborative CD's. She directed the Lyon & Healy Pop & Jazz Harpfest and served on the board of the World Harp Congress for many years. She and her daughter, Kelly directed the St. Paul's Harp Choir.
She is survived by her daughter and son-in-law, Kelly Cousineau Harris and Andrew Harris; and two grandchildren, Analise and Kolton as well as her first husband, Roger Cousineau and loving companion, Dale Mitchell; and her brother Roy McLaughlin. She will be deeply missed by her family, friends, and the numerous students whose lives she touched so profoundly. Memorial Services for Dr. Carrol McLaughlin will be held at Holsclaw Hall in the School of Music at the University of Arizona on Saturday, April 28, 2018 at 11:00 a.m., and an additional service will be held at St. Paul's United Methodist Church on Sunday, April 29, 2018 at 1:30 p.m.