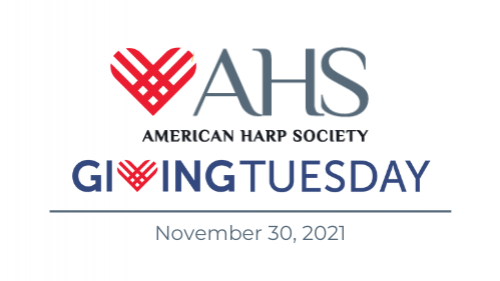 Give to empower the next generation!
On Giving Tuesday the AHS is raising money to support empowering the next generation of harpists. Contributions on Giving Tuesday will go directly toward supporting the programs and opportunities that inspire and directly benefit young harpists.
AHS membership dues contribute approximately 33% of the annual revenue required to mount programs for youth, including the National Competition, Chapter Ambassador Awards, the Concert Artist Program, the Music Education Auditions & Evaluations and Winners Outreach programs, and The Young Composer's Project.
On Giving Tuesday, the AHS will bring its national and international community of musicians together virtually with live-streamed performances, interviews and commentary throughout the day, all of which will be free to the public. Join us on November 30th on Facebook, YouTube, and HarpSociety.org!
10 am ET: JUNO Award winner Angela Schwarzkopf performs "Detach", composed by Monica Pearce and supported in part by a grant from the AHS. This is from Angela's 2020 JUNO Award-winning Classical Album of the Year.
11 am ET: Harpist/Composer/Arranger Stephanie Claussen performs live Scottish lever harp music, including some of her original works, followed by a talkback.
12 pm ET: Harpist Mallory McHenry and Flutist Karen Baumgartner, the e(L)ement duo, perform a flute & harp composition supported in part by a grant from the AHS. Enjoy a live talkback following the performance.
1 pm ET: AHS Lifetime Achievement Award recipient Cathy Anderson, her son cellist Kyle Anderson, and husband bassist Dave Anderson perform an arrangement by Dan Reiter of the Mahler Adagietto from Mahler Symphony #5.
2 pm ET: Puerto Rico Chapter President and AHS Board Member Elisa Torres talks about the impact for her harp community of the support from the AHS Grants program for a new work for harp by Johanny Ravello. Ms. Torres and AHS President Lynne Aspnes discuss the Puerto Rico Chapter's invigorating community engagement work and the emerging and vibrant harp community in Puerto Rico.
3:30 pm ET: Past AHS President Ann Yeung and flutist Jonathan Keeble (Past President of the National Flute Association) — the Aletheia Duo — talk about their performance from the 2016 National Conference and the value of careers devoted to serving professional music organizations.
4:00 pm ET: AHS Board Member and certified Lyon & Healy harp technician Karen Gottlieb shares her top tips for harp maintenance in a live conversation with AHS President Lynne Aspnes.
5:00 pm ET: AHS Board Member Vincent Pierce performs live.
6:00 pm ET: 2021 National Competition Winner Daniel Benedict appears in a short Q&A about what the AHS competition experience meant to him.
7:15 pm ET: AHS Pacific Regional Director Jennifer Ellis and saxophonist Jonathan Hulting-Cohen, the Admiral Launch duo, share a recorded performance followed by a live talk back.
Please give to benefit young harpists!
Hear from some amazing young people
what the AHS programs have meant to them!
Give today to empower the next generation!