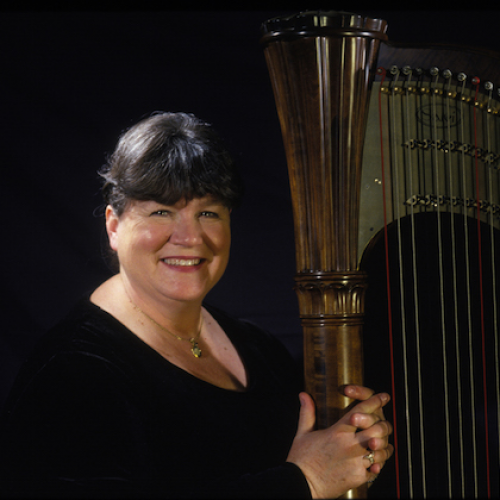 We mourn the passing of our friend and colleague Mary Dropkin on January 8, 2021.Mary Dropkin was born in Green Bay, Wisconsin, and grew up in Pomona, California. Her childhood dream of becoming an archaeologist was supplanted by her mother's insistence on harp lessons. Mary's teachers included Grace Follett, Tony Robinson, Dorothy Remsen and, at the University of Southern California where she completed both undergraduate and graduate degrees, Susann McDonald. Mary's professional career spanned over fifty years, including as Principal Harpist for the San Bernardino Symphony and Civic Light Opera, and decades with the Redlands Symphony, Indian Wells Desert Symphony, The California Philharmonic, and other Southern California regional orchestras. Of the many artists she performed with over the years, her favorite was The Texas Tenors, with whom she had an ongoing friendship. She performed for President Gerald Ford, and often joked that when the Secret Service wanted to check her harp for explosives she told the officer she wasn't about to blow up her harp, under any circumstances! Mary was well known and respected across Los Angeles, Orange, and San Bernardino counties for her musicianship and for her friendly, sweet demeanor. In November of 2020 Mary organized a chamber music concert playing from a neighbor's driveway. One neighbor said that the uplifting concert was "just what the doctor ordered, "bringing hope to those isolated due to COVID.
Mary was a devoted teacher to students of all ages and abilities. She was on the faculty of the University of Redlands and Pomona College, and always willing to give of her time, knowledge, and experience. Her interest in and dedication to pedagogy led her to start an annual summer camp at the University of Redlands. Students came from all over the United States to work with nationally and internationally known harpists and clinicians. Through her position as a member of the University of Redlands faculty, Mary hosted the American Harp Society's forty-third national conference in June of 2018, enjoying the opportunity to feature a number of harp ensembles, her favorite instrumentation. Mary's life-long dream of a professional harp quartet was realized in 2016, when she founded the LA Harptette with Paul Baker, Laura Casey, and Jillian Risigari-Gai Lopez. The quartet was devoted to playing originally composed music for harp quartet, with a particular emphasis on works by contemporary composers. The LA Harptette produced a holiday program that premiered on YouTube on Christmas Day, 2020. Mary loved "learning for the sake of learning; knowledge for the sake of knowledge." She was a voracious reader: her library is voluminous and her interest in archaeology never waned, especially ancient Egyptian civilization and Egyptology. Most recently she was studying how to read hieroglyphics. John Gann, Mary's beloved husband of thirty years, describes her best. "She had a listening heart and ear, but she could also be a Mama Bear! She loved unconditionally." To her students and family, she was a devoted mentor and friend. To her colleagues she was a loyal ally. When she encountered injustice she was a dedicated advocate for equity and fairness.
Mary Dropkin is survived by her husband John, sons Brian and Scott, and grandchildren Cash, Mason, Brielle, and Lexi, and cousins Mara and Kent. She leaves a legacy of love, kindness, and devotion to her many students, colleagues, and friends.