AHS 2017-2018 Chapter of the Year:
American Harp Society in Dallas (AHSD)
by Yumiko Endo Schlaffer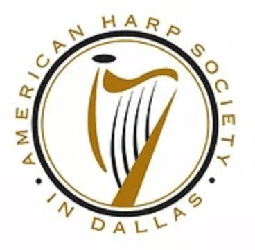 The American Harp Society in Dallas and our board of officers would like to express our appreciation to the AHS for the honor of receiving the 2017-2018 Chapter of the Year Award. Julia Louise Herrmann Edwards founded our chapter in April of 1963, so we are celebrating our 55th anniversary.
This was our busiest and most exciting year ever! Our 2017-2018 season opened in October with a harp teachers' forum moderated by Kimberly DeRosa. Kimberly solicited input on topics from the membership. Guest speaker Anthony Arant discussed the role of music practitioners in hospitals and how we can use our instruments to help patients.
In November we presented our first recital of the season as part of the Mu Phi Epsilon Concert Series. Better Than One, comprised of harpists Emily Mitchell and Jaymee Haefner, presented a beautiful program. Emily and Jaymee are well loved by the North Texas music community, as evident by the excellent attendance at their recital.
Internationally renowned Russian harpist Sasha Boldachev delighted attendees with an outstanding recital in January 2018 at the PepsiCo Recital Hall on the campus of Texas Christian University, a co-sponsor of the event. His exciting performance and engaging personality captivated the audience. Sasha also gave two masterclasses at the University of North Texas and Texas Christian University. He inspired students with his enthusiasm and unique performance perspectives.
Auditions and evaluations for area students were held in February and March on the campus of Texas Christian University. Rosalie Gilbert served as an outstanding advisor. With warm kindness and gentle humor, she challenged and encouraged the participants.
In February 2018 we sponsored workshops with esteemed Paraguayan harpist Alfredo Rolando Ortiz. His sessions included Latin and South American rhythms, learning how to prevent injuries, and Latin American harp techniques. Alfredo is a dynamic, talented and personable performer, teacher and clinician. Participants in his workshops had a rewarding experience.
The final recital of our season was in April 2018 as part of the Mu Phi Epsilon Concert Series. The Dallas Jazz Harp Ensemble, comprised of harpists Cindy Horstman, Laura Logan Brandenburg, and Kimberly Snaufer DeRosa along with Michael Medina, bass and percussion, presented a delightful program of compositions written or arranged by Cindy. The audience loved their recital.
The annual Student Recital was held in May 2018. Certificates from national were formally presented to students who participated in auditions and evaluations earlier in the spring. New this year was the opportunity for students to have a harp portrait by a professional photographer—who is also a harpist's mom. A portion of the proceeds from the photography sessions was donated back to the chapter to benefit the student scholarship fund.
Our chapter participated in North Texas Giving Day, and received generous grants from AHS and Bank of America. In addition to our website, www.DallasHarpSociety.org, we have an active Facebook page connecting members and a YouTube channel to share events and performances. It was certainly a rewarding year for AHS in Dallas!