AHS 2017 Chapter of the Year:
Bay Area Chapter (BACAHS)
by Jennifer Ellis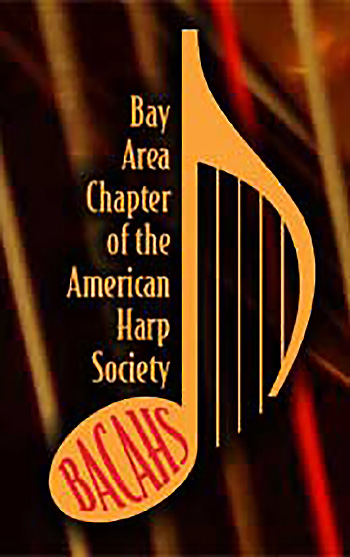 For a second year in a row, the Bay Area Chapter (BACAHS) has won the AHS Chapter of the Year Award. A chapter of 111 members, the past year's programming included events for everyone. Highlights include the Yvonne LaMothe Schwager Competition for Young Harpists, which had thirty-nine applicants and culminated in a Winners Recital featuring Santa Cruz Symphony principal harpist and chapter member Madeline Jarzembak as the guest artist and held in conjunction with Harps Etc. and the Diablo Valley Arts Academy at the International Harp Festival in Danville, CA; a performance by the Sarah Voynow Jazz Trio; a winter potluck featuring the Admiral Launch Duo playing new music for harp and saxophone; and a sold-out spring CD release party for Amelia Romano's group, All that Bad, at the Center for New Music.
In addition to performances featuring chapter members, harpists from afar came to perform and teach in the Bay Area, including 19th Israel International Harp Contest winner, Yuying Chen, Susann McDonald who taught master classes for both BACAHS and the Silicon Valley Chapters, as well as a performance and master class by AHS 2015-2017 Concert Artist Katherine Siochi.
Additional BACAHS's events included an annual music-swap; creation of an online calendar of harp events from across the Bay Area; and an active e-newsletter where members can submit their recent news as well as information about upcoming events. The newsletter includes concert reviews and regular columns such as a Member Spotlight, founded by Suki Russak, helping the chapter members to get to know their fellow members. Beyond these features, the newsletter offers practical resources. This past year, Karen Gottlieb spearheaded an effort to garner tips on contracts for harpists from across the entire chapter and streamlined them into a detailed and useful document.
Looking to the future, BACAHS welcomes first-time board members Meredith Clark, Jennifer Ellis, Sarah Goss, Constance Koo, Kristen Lloyd, Krista Strader, Brian Swager and Dana Wallace to their 2017-2019 board. Their upcoming goals include expanding and improving the chapter's social media presence, continuing and broadening educational resources, and continuing to provide quality concert programming for harpists and non-harpists alike.
Congratulations to 2017-2018 board members Alice Yothers (President), Susie Spiwak (Vice President), Melinda Chin (Treasurer), Henry Heines (Secretary), Mitch Landy (Facebook Administrator), outgoing and former board members Suki Russak, Erica Messer, Alexandra Perdew and David Trap, as well as the whole Bay Area Chapter, on a stellar year.