Philadelphia Chapter, Chapter of the Year 2014-2015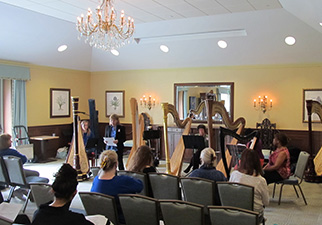 This was an exciting year for the Philadelphia Chapter of the American Harp Society! We kicked off the year with a members-only potluck, where harpists socialized and enjoyed the company of other harpists, while networking and welcoming newcomers to our area. At this meeting we began discussing what events harpists wanted to see coming to Philadelphia in the upcoming year.
As always, we sent out our regular quarterly newsletters to alert members of our planned events, announcements from members regarding concerts, workshops, classes and other news, classifieds ads, notes from the president, and memorials for those we have lost. We also sent regular reminders to our now 600 person email list regarding upcoming events. We maintained a strong Facebook and twitter presence, and used these platforms to keep both members and nonmembers alerted to all upcoming harp events in the greater Philadelphia area. We also keep an updated list of all future and past harp events on our website, phillyharp.org.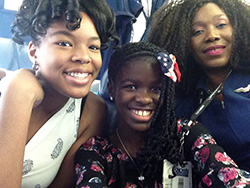 In January of 2015 we welcomed French harpist Agnes Clement to the stage of the Philadelphia Settlement School, where she performed a free program of virtuosic works for the harp. Many of the young students of the school (both harpists and others) were able to attend and witness the beauty of the harp. They were joined by 60 of our members. Agnes was also gracious enough to offer a masterclass to four of our chapter members, an event which was also free and open to the public. Following these two events, we had a discussion with the Settlement Music School regarding our ongoing relationship. We have agreed to do all we can in our partnership to make Settlement a "harp hub", featuring regular workshops and concerts. As one the largest music school in the greater Philadelphia area, we are sure that this relationship will help garner interest in harp lessons and a greater demand for future harp events. Our next event at the Settlement School will be our "Winner's Recital", discussed later in this document.
In March of 2015, we co-sponsored an exciting event with Play on, Philly. This was a fundraiser concert which featured the Chicago Harp Quartet and Elizabeth Hainen, both of whom performed both solo and alongside the young harpists of the Play on, Philly program. Taking place on stage at the Curtis Institute of music, this was an inspiring night for the harp community as well as the students, and is something I'm sure neither will soon forget.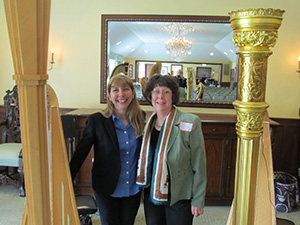 In April of 2015 we hosted the Mid Atlantic Harp Day, which was a huge success. Taking place at the Chateau of Chestnut Hill College, this event featured seven workshops including harp maintenance, improv and the pop harp lifestyle, memorization mastery, the history of the harp, arranging for the harp, Suzuki, Kodaly, and Orff methods, and a showcase of newly released arrangements. There were also two masterclasses (Robbin Gordon Cartier and Colleen Potter Thorburn of Apple Orange Pair), free recording time open to all harpists, an impromptu community harp ensemble rehearsal and performance, complimentary breakfast and a low cost lunch, a lunchtime forum on creating a stronger harp community, a harpists-only hike in the Wissahickon Valley, a best business card competition, ten vendor booths selling everything from harps, music and accessories to harp camp tuition, and a free concert featuring Apple Orange Pair (a new music harp and horn duo committed to commissioning and showcasing new works for the harp). With well over seventy attendees, this event was a wonderful experience. Following the event we sent out a survey to all of our members so we could learn what they liked, disliked, and why they did or did not attend. We will use this information to grow as an organization in the future.
This year, we have been partnering with the harp instructor of Play on, Philly (an El Sistema Organization that gives free music lessons to impoverished children). We have been sponsoring fundraisers to help send three of her harp students to the Young Artists Harp Seminar and the Somerset Harp Festival. Through a raffle, concert, and online fundraising event, we have raised over $3,000 in order to send these kids to experiences of a lifetime.
Our final event of this season was our semi-annual harp competition. We had four categories in which contestants could enter: Junior Pedal, Junior Lever, Senior Pedal, and Senior Lever. The Junior divisions are available to all students under the age of 14, and the Senior divisions are available to all students under the age of 18. This year we had 21 students competing for our prizes. In the Junior division, first place winners receive $200 and second place winners receive $100. In the Senior division, these numbers are $300 and $200 respectively. The repertoire chosen is designed to encompass many aspects of our harp world. The senior pedal division performed Hasselmans' Petite Valse, a classic of our repertoire, and Joio Bagatelles, a contemporary work to expand their horizons. Similarly, the senior lever division performed Andres' Spices (new) and Handel's Pasacaille (old). The junior lever division only performed works arranged by Eleanor Fell, in order to commemorate her life and recent passing. Our competition took place on June 6th of this year at the Community Music School in Trappe, PA. We chose to have this event at this location because we want to ensure that our events are widely available to people who live in all regions, and not just in central Philadelphia. Many of our members live in the suburbs, and it can be difficult for them to drive into the city. Our Winner's Recital, featuring all contestants who took first prize, took place at the Settlement Music School, with whom we are forming an ongoing relationship.
Visit the Philadelphia Chapter website at http://www.phillyharp.org.