Central Florida, Chapter of the Year 2012-2013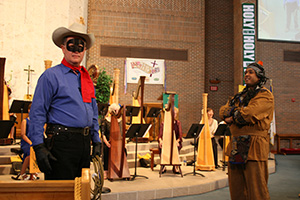 Mike Garcia as the Lone Ranger and Allende Franco as Tonto.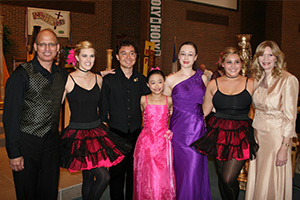 Guest artist Frank Voltz, dancers Chessa Hanson, Jack, Naomi, and Jennah Moulton, Catherine Silver, and President Jan Jennings.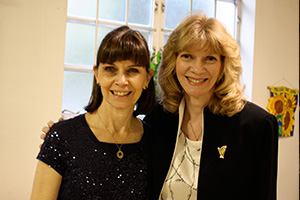 Nancy Allen and Jan Jennings after the concert.
The Central Florida Chapter celebrated its 25th year with a Silver Anniversary Concert Series. The series began on February 19, 2012, with jazz harpist Park Stickney. On April 1, 2012, Elizabeth Hainen presented a program of classical harp music. Kim Robertson highlighted Celtic harp for the third concert on September 23, 2012. The grand finale on November 18, 2012, featured chamber music with Nancy Allen accompanied by principal players from the Orlando Philharmonic.
We hosted our annual recital weekend July 6-8, 2012, with guest Frank Voltz. He presented a solo concert on July 6 on lever harp, pedal harp, and piano. On July 7, he taught two workshops and a master class. Master harp technician Erich Rase gave a harp maintenance workshop and did harp regulations. On July 8, a twenty member harp ensemble concert included chapter members, guests, dancers, characters, and Mr. Voltz and his arrangements.
"Waltz of the Flowers" showcased the ballet dancing talent of Jack, Jennah, and Naomi Moulton. "Strolling Through the Strings" featured professional dancers dressed in 1890s costumes. Mike Garcia (harp husband of Vicki Garcia) and Allende Franco (from the International Harp Museum) played the Lone Ranger and Tonto, respectively, in a skit before the "William Tell Overture." The dancers returned during the finale with Frank's arrangement of "Can Can."
Our final event for the year was our annual "Hanging of the Greens" Christmas concert on December 2, 2012. There were eighteen harps in the ensemble which also included commentary by Pastor Clare Chance. We are a busy chapter!