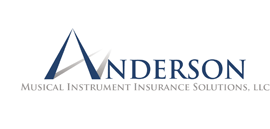 Anderson Musical Instrument Insurance Solutions, LLC is the endorsed agent for the American Harp Society Musical Instrument Insurance Program. Anderson Group, located in Sebring, FL (USA), is devoted exclusively to insuring musical instruments and valuable articles worldwide for musicians, musician associations, orchestras, collectors and musical instrument dealers. Anderson specializes in insuring harps as well as all types of musical instruments, and electronic equipment. Anderson is also the endorsed agent for harp insurance for the World Harp Congress, the International Society of Folk Harpers and Craftsmen, The Harp Centre of Australia and the New Zealand Harp Society.
Insurance coverage provided to the American Harp Society and its Participating Members under policy #IHN 9407647 by The Hanover Insurance Company to the American Harp Society and its Participating Members under policy #IHN 9407647. You must be a member in good standing of the American Harp Society to participate in this program.
IMPORTANT NOTICE REGARDING INSURING INSTRUMENTS RENTED TO OTHERS

Anderson Insurance and the American Harp Society want to remind anyone that rents or intends to rent an instrument to others that is insured in the American Harp Society Harp Insurance Program that coverage is capped at $1,000 without receiving prior underwriting approval. Please visit www.anderson-group.com/faqs.html#rent for more information.
Highlights of the AHS Insurance Program:
The AHS Harp Insurance program offers the most competitive pricing for harp insurance worldwide. $165 USD per year insures up to $25,455 of instruments! Want MORE SAVINGS and rate protection?  Ask about our Anderson's 3 year guaranteed premium option. Pay 2.25 years up front and receive the 3rd year premium at a deeply discounted cost providing savings of 25% per year; smart savings!
Cause of Loss:
"All risk" Coverage, except as excluded, is provided for your instruments and related equipment and accessories.
Valuation Clause:
This "all risk" coverage is provided on an "agreed value" basis. Once Anderson accepts a requested valuation, that insurance limit will be the amount agreed to be the value for the purpose of this insurance.
Coverage Territory:
Musical instruments are covered on a worldwide basis.
Rate per $100 of insured value:
The AHS Harp Insurance program rate of $.55/$100 of insured value.
Rental Reimbursement Coverage:
Provides coverage up to $225 per month for up to 12 months subject to timely repair of a covered loss on a damaged instrument IF you do not have an equivalent idle instrument. (Included at no additional charge to participating AHS Harp Insurance members in good standing.)
Detailed information can be found at:
www.anderson-group.com/ahs-harp-insurance.html
or by visiting
www.harpinsurance.com
Coverage provided by