Be a Part of AHS!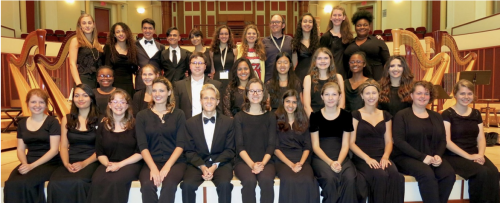 Be a part of the world's largest harp community!
Annual Memberships Starting at $60/year – and Only $40 for Students!
The American Harp Society welcomes professionals, amateurs, folk harpers and all those who have an interest in the harp. An AHS membership brings you into a diverse community of harpists across the country and around the globe, and provides access to a wide range of opportunities and benefits:
Select Your Membership
All American Harp Society, Inc. memberships, other than life memberships, extend 12 or 24 months from your initial join date and may be purchased at any time. The discounted two-year membership will save you $10 off normal rates ($5 for student members) and offers the best value. And for the greatest convenience, select "Automated Recurring Billing" at check out. You will never have to think about renewing your membership again (of course, you can opt out at any time)!
Memberships marked as VIP provide additional support to AHS. AHS is recognized by the IRS as a 501(c)(3) nonprofit, and dues amounts above $50 are tax-deductible for U.S. citizens; please consult your tax advisor.
ARE YOU ALREADY AN AHS MEMBER? LOGIN AND RENEW HERE.
New or returning member? Welcome back to AHS! Please select a membership below. You will be directed to the AHS Member Portal to complete your membership form and submit payment.
| | | |
| --- | --- | --- |
| Membership Dues | 1 year | 2 years |
| | $60 | $110 |
| | $40 | $75 |
| International Member (adult or student) | $75 | $140 |
| | $90 | $170 |
| | $120 | $230 |
| | $175 | $340 |
| | $250 | $490 |
| | $1,250 | N/A |
| | $2,500 | N/A |
** Student Members are US-based individuals who are age 21 or younger, or currently a full-time student in a college or university. Anyone with a non-U.S. address, adult or student, should register at the International Member rate. Membership payments are in U.S. Dollars, and are non-refundable.
OPTIONS FOR JOINING OR RENEWING OFFLINE
We encourage everyone to join/renew online to take advantage of the dynamic AHS Member Portal resources, and have the option for your membership to renew automatically each year.
Prefer to join or renew by mail? Download a printable membership form here.
You may also call the Membership Secretary with your credit card details at 805-410-HARP (4277) (phone).
AHS does not mail printed membership cards, but they are downloadable from your online profile for the current membership year, and will include your membership expiration date.
Membership Directory
Looking for a colleague or trying to find harpists in a different area? Available to members only, the online Membership Directory is searchable by name or location. (Some members may have opted out or limited publication of their contact information.)
Members may also opt-in to receive a printed Membership Directory in the spring.