Three downtown Sioux Falls hotels have generously provided discounted group rates for 2022 National Conference attendees, and free parking. All are within walking distance of the Washington Pavilion, and are surrounded by numerous dining establishments of varied price and cuisine.
Hilton Garden Inn Downtown - 1 King $159/2 Queen $154 + tax/fees
201 E. 8th Street, Sioux Falls, SD
Complete your AHS Conference reservation here.
Holiday Inn City Centre - $119 + tax/fees
(If you see a daily $19.50 "additional fee" charge when making a reservation, be aware this is an ERROR on the Holiday Inn website and can be ignored. It does NOT apply to AHS group reservations, but will still be calculated. It will be REMOVED before you check out of the hotel.)
100 W. 8th Street, Sioux Falls, SD
Please make your discounted Conference rate reservation by calling the Hotel directly at 605.339.2000 or Holiday Inn Brand Reservations number, 1.800.HOLIDAY, identifying yourself as being part of the "American Harp Society Group."
Complimentary airport shuttle available
Country Inn & Suites - $114 + tax/fees
200 E. 8th Street, Sioux Falls
You may call in your reservation::
605-373-0153
"American Harp Society"
Reservations can also be made online:
Enter the check in and check out dates
Click "More Search Options"
"Promotional Code" is in the drop down
Enter the "HARP" code
Download a larger map of Sioux Falls here, and plan your trip at "Experience Sioux Falls South Dakota", a 2022 National Conference Sponsor.


Flying to Sioux Falls?
This very helpful page lists which cities have direct service to Sioux Falls, to assist in your travel planning. Just click the "+" next to the city to discover which airlines provide service there. The airport is very close to downtown, and some hotels have a shuttle; please check. The fare with Taxi by Mike (605-332-1234) is approximately $15 to the city center. Uber and Lyft are also options.


Getting Around in Sioux Falls
Sioux Falls is a very walkable city, encircled by the 40-mile Greenway Trail - walk a part of it or rent a bike to ride from your hotel the short distance to the Washington Pavilion and Conference church venues.
Another handy way to move between the hotels and Conference facilities is on the Downtown Trolley, with stops near each hotel and the Pavilion, at only $2/day!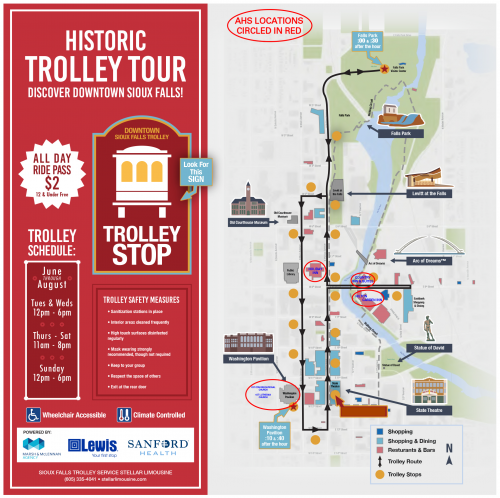 If you have a car, parking is available, including handicapped spaces, all around the Washington Pavilion. And much of it is free in the evenings.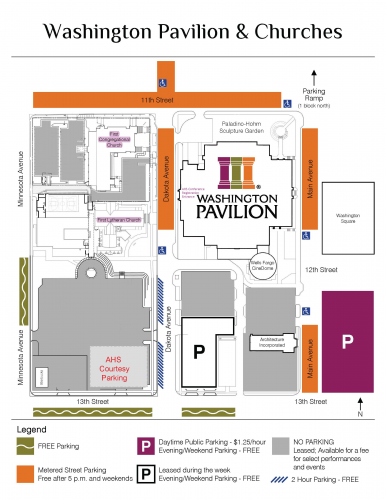 Important Note: If you are contacted by Conventioneers, Expo Housing Services, Global Services or Global Travel Partners or similar, DO NOT book your hotel room through them. THIS IS A SCAM and you may NOT have a reservation but will lose money. AHS has not authorized any travel companies to contact members on behalf of the 2022 National Conference.